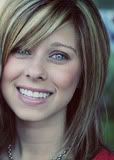 I am Sharla Stenersen, I am a wife to my husband, a Mother to my Son and a daughter
to be born in May:) and a Daughter of a King! I am a photographer in southwest WA. I
love, love, love being able to capture precious moments. I believe a photo shoot
should be relaxed and FUN! No stiff and awkward posing. I let children run and play,
couples snuggle and ignore the world around them, and seniors strut there stuff! I
love real, individual, everyday,extraordinary moments. I specialize in senior and
children's photos.I am just starting to get into weddings and I think they will
become a new favorite to shoot:)
I am more than happy to come to the location of your choice be it your home, a
favorite park, even the town junkyard.