mmm This is my kind of comfort food...Tomato Basil Bisque with Homemade Ceaser salad. I love anything Italian and I have to say this soup turned out pretty good.
First the Ceaser salad...
Donna's Ceaser Dressing
1 cup mayo
1 tsp Dijon mustard
1 garlic clove
1/4 cup grated Parmesan cheese
1 TBS red wine vinegar
1 TBS lemon juice
3/4 tsp Tabasco
3/4 tsp Worcester
This is my favorite ceaser recipe. SO good!
thanx Donna;)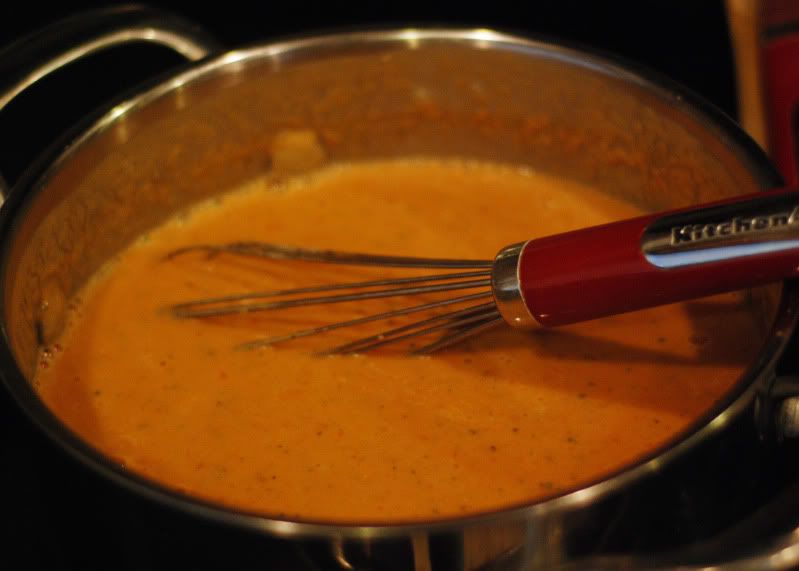 Bear with me I didn't use one recipe for this. I mixed a up a few I found so my measurements may not be precise.
Tomato Basil Bisque
1 stalk celery
1/2 onion diced
8 TBS butter
2-3 cloves garlic
melt
butter
in large soup pot,stock pot whatever you call it:) and saute
onions,celery
and
garlic
until softened add
salt and pepper
to taste
4-5 small tomatoes roughly chopped
1 can diced tomatoes
2 cups chicken broth
1-2 Tbs sugar
about 10 fresh basil leaves.
These do not need to be heated just add them to the blender
throw rest of ingredients in soup pot until heated through
blend in blender or food processor until you have it as smooth as desired. Careful this can get very messy as hot food expands alot in a blender. This can be strained to get a smoother consistency but I kinda like a little more texture.
1 cup heavy cream
after blending pour soup mixture back into soup pot and add the
heavy cream
. Season well with
salt, pepper
and whatever else floats your boat:) I added
garlic salt
and a tiny bit of
onion powder
.
haha I could never be a cookbook writer:)but I hope you enjoy this recipe
*you can substitute the fresh tomatoes for canned,also if using fresh you can peel and seed the tomatoes but I'm lazy so I skipped that step and it turned out fine
*plus I heard if you use the whole tomato its better for you
*I am using to many asterisks